Address: 4411 Oregon Pike Ephrata PA 17522
E-Mail: info@reedconcretework.com
Phone: 717-859-6699 Fax: 717-859-6669

---
What We Do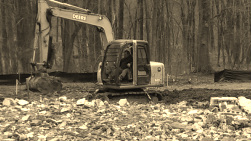 Reed Concrete specializes in vertically formed concrete, in both residential and commercial applications. In addition to concrete work, we have an excavation division which can provide foundation excavation, utility work, installation of complicated septic systems and demolition services. Residential slabs for basements, garages, porches and patios are also available. In conjunction with the foundation and excavation work, we offer damp proofing and waterproofing services.

We are readily available for both blueprint and job site evaluation and consultation. The combined services of concrete work and excavation, allow us to take an unimproved building lot from survey to ready for framing. We will gladly bid and perform any single service or grouping of services that you request. Reed Concrete Work's objectives are to continually provide a superior product for our customers at a competitive price.

Reed Concrete Work is a member of the Concrete Foundation Association, the PA Motor Truck Association, and the PA Concrete Promotion Association. For more information concerning these organizations, please feel free to click on the icons below.
---
---